MENU

facility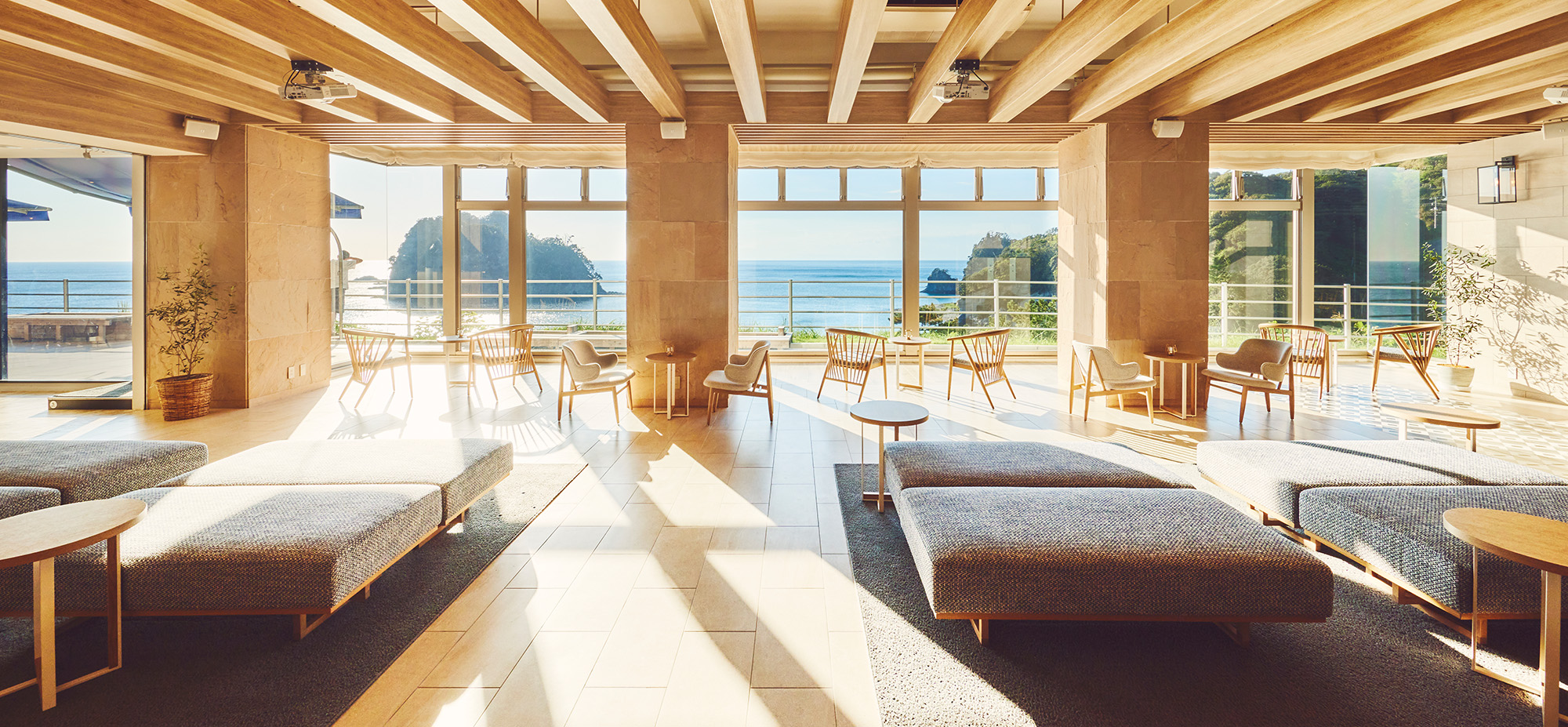 upgrade
your

journey
We aim to upgrade your travel experience in Izu and your stay at il azzurri with attentive services and facilities that will bring you closer to your special day, where you can feel the blue and beauty of the sky and sea, and feel extraordinary and retreated.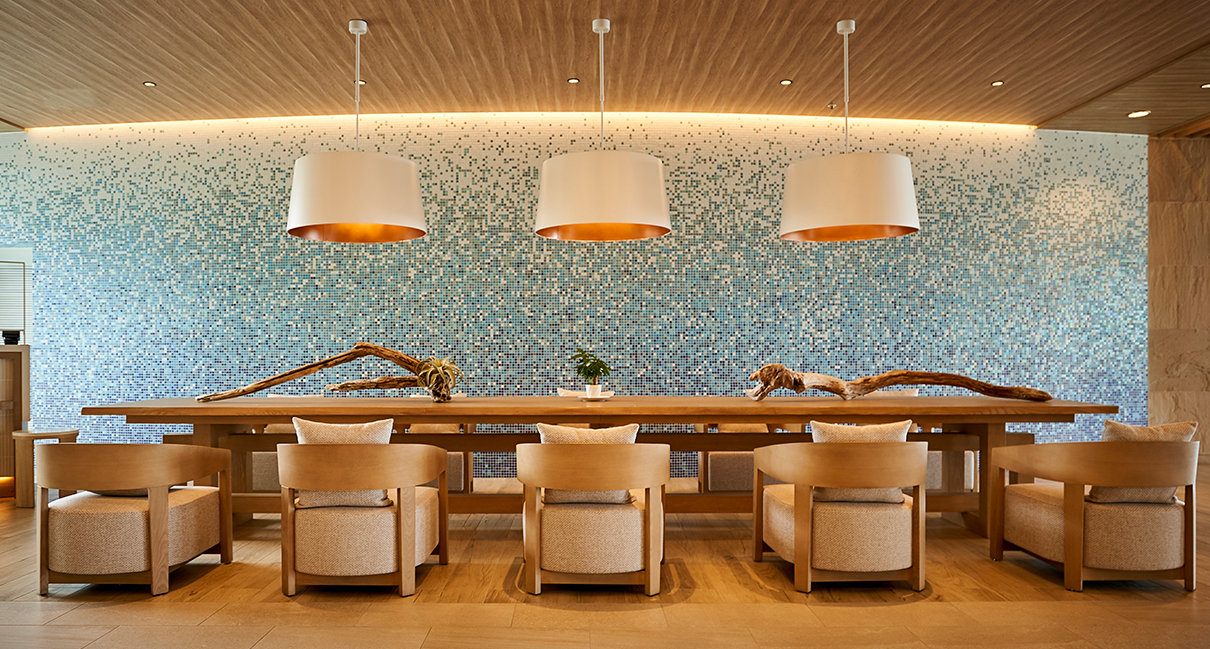 facilities
entrance & lobby
As you step into the open-air lobby, the endless blue sky and sea beyond the windows and the magnificent view of Sanshiro Island floating in peace and quiet begin to unfold.
Quiet and luxurious, the colorful time unique to this place begins to move gently.
lounge Tramonto
During your stay, you can enjoy free-flowing drinks at Lounge Tramonto and the restaurant.
While enjoying the view of the blue sea and Italian snacks such as Sicilian arancino" and northern Italian "polenta "*1, you can enjoy wine and original citrus drinks from the menu not only at sunset, but also before and after dinner and breakfast as well.
Of course, specific brands of wine and champagne of your choice are available at an additional charge to the free-flow menu.
more
All you can drink FREE FLOW
Location:

1F

Business hours:

7:30AM - 11:00AM, 3:00PM - 10:00PM
Available from check-in to check-out
* 1 snacks and foods are served from 3:00PM to 6:00PM
* Beverages can be enjoyed in your room.

Price:

Free for hotel guests
restaurant Taverna di Mare
"Taverna di Mare" restaurant is based on the concept of "the cafeteria of the sea on Dogashima."
In this spacious and bright space, you can enjoy the taste of fresh local ingredients while gazing out over the Izu sea.
Enjoy the bounty of the sea and mountains of West Izu in Italian cuisine for dinner and a buffet breakfast featuring local delicacies.
more
Izu Projection Mapping Night
Every night in the lobby, we offer a projection mapping show that allows you to enjoy the powerful natural beauty of Nishi-Izu.
Enjoy the evening with a drink in hand for a special moment.
* To prevent COVID-19 infections, please wear a mask and disinfect when entering the restaurant.
ilazzurri treatment menu
Soothing aromatherapy treatments that restore your beauty
We blend 100% natural essential oils to suit your skin, body, and mind during your stay and treat you with all-hand massage.
Using natural essential oils, we not only take care of the superficial layers of the skin, but also firmly rub and relax deep into the muscle tissue to promote the flow of blood and lymph to excrete wastes, while relieving stress and refreshing the body. We value the "chi" that comes from the hands. Please experience this warmth in a relaxing and healing space. We will help you purify your body and mind through total care of your face and whole body.
*Because we operate on a full reservation system, the cancellation fee will be charged in full in case of cancellation on the day of the event. ( This includes cases where time cannot be adjusted for delayed arrivals.)
*The treatment are performed in guest rooms, so please be in your room 5~10 minutes prior to your appointment time.
*Please note that the course content may be changed or the treatment time shortened if there is a delay in the start time for the customer's convenience.
*Pregnant (2nd trimester) customers may only take the 60min facial course.
*When waiting for a facial, please use the time to remove your makeup.
IL AZZURRI TREATMENT MENU
Azzurri
Retreat

120min. /27,500
150min. /36,300
Full body(including head) + premium facial care

Business hours:

9:00AM-10:00PM(Last starting time 9:00PM)
Last admission 6:00PM *morning appointments must be made by 6:00PM on the previous day
outline
Name of facility

il azzurri

Address

2145 Nishina Nishiizu-cho, Kamo-gun, Shizuoka prefecture 410-3514, Japan

Inquiries/contact details

*Inquiries about staying at il Azzurri
Reception hours 10:00AM~6:00PM
*Reservations can be made online.
+81-558-52-0346

*Inquiries upon arrival
+81-558-52-2222

FAX

FAX. +81-558-52-0434

Buildings

Reinforced concrete, 6F, all rooms air-conditioned

Check-in / Out

Check-in 3:00PM / Check-out 11:00AM
Last check-in for overnight stay with no meal and breakfast: 10:00PM, with dinner: 6:30PM

Number of rooms

46 rooms (all with ocean view)

Accomodation capacity

181 guests

Amenities in all rooms

Body soap / Shampoo / Conditioner / Face&hand soap / Cleansing oil / Milky gel / Gel lotion / Toothbrush / Bath towel / Face towel / Slippers / Nightwear (one size fits all, unisex, separate tops and bottoms) / Bathing clothes (available in the lobby) / Original drip coffee x number of guests

Hairbrush / Body towel / Hair band / Cotton swab / Razor (available at the amenity counter)

In-room facilities

Air purifier / Electric kettle / Original mug / Hairdryer / Refrigerator (Free bottled water x number of guests) / TV

[Executive Ocean View Suite Only]
Ceiling light with high-performance projector and speakers (Bluetooth / Airplay compatible)
[Other guest rooms]
High-quality sound with deep-bass Bose mobile Bluetooth speakers

Hammocks: 3 rooms (luxury ocean view terrace x 2), 4 rooms (executive ocean view suite room x 1)

Rental equipment

Phone charger / Iron&ironing board / Medical thermometer / Nail clippers / Hot brush / Hair iron / Alarm clock / DVD player / Bed guard / Baby crib / Step stool / Potty / Diaper trash can / Baby bottle warmer / Baby soap

Dining area

Breakfast: "Taverna di Mare" restaurant
Dinner: "Taverna di Mare" restaurant

Lounge for hotel guests with room reservations only

lounge Tramonto
7:30AM - 11:00AM, 3:00PM - 10:00PM (Food offerings 3:00PM - 6:00PM)

Onsen

Type: natural hot spring baths featuring large common baths, open-air baths
Spring water properties: Calcium and sodium sulfate spring
Recommended for: joint pain, muscular pain, neuralgia

Parking lot

5 buses, 50 passenger cars (outdoor availability: approx. 42 cars, garage: 8 cars)

On-premises facilities

lounge Tramonto, Taverna di Mare restaurant , large common bath, outdoor hot spring, stores, vending machines, shuttle bus, wake-up call, delivery service, footbath
・Free high-speed wireless LAN Internet access is available in the 1F lobby and all rooms.
・All guest rooms are compatible with terrestrial digital broadcasting&BS broadcasting

Credit Cards

VISA、JCB、American Express、Diner's Club、UC、DC、NICOS、UFJ Card、Debit Card

Local recreation

Swimming, fishing, ocean fishing, canoeing, cruising, diving, water sports, tennis, golf, flower park

Cancellation policy

The cancellation policy is as follows.
No notification of cancellation/no show :100% of room charge
Same-day cancellation :100% of room charge
One day before :50% of room charge
Two days before :30% of room charge
*A separate cancellation policy may be set for each stay plan or day.

Children's rates

Child rates for all room types will be charged as follows
Junior high school students : Rates for Adults
Elementary school students : Rates for Adults
Infants 0-6 years old [in the case of sleeping with child (no bedding) and no meals] : Free
* Baby cribs for 0 to 2 year olds can be rented separately free of charge.
 Please note that availability is limited.
*Elementary school students are charged at the same rate as adults.
*Infants (pre-school children) sleep with their parents free of charge.
 Please indicate the number of infants sleeping with you in the comments section.
*Meals are free for infants 0-6 years old (preschoolers).

Group reservations

This plan does not apply to groups or organizations of 8 or more people when reservations are made through the official website or the Internet.
Please note that if the hotel considers a reservation of 8 or more persons to be a group or an organization, the hotel may contact the person who made the reservation by telephone.
If we are unable to contact the person who made the reservation, we will cancel the reservation.
In addition, if the hotel deems that the reservation had been made for the purpose of resale, regardless of the number of guests, the hotel will cancel the reservation.

Barrier-free services and facilities

All facilities are wheelchair accessible. Wheelchairs are available for rent. Guest rooms have Western-style toilets. Bathtubs are fitted with handrails. Senior citizen-friendly and allergy-friendly cuisine is available.
For your convenience and peace of mind, please call us in advance to confirm room availability

Local sight-seeing spots

[Sight-seeing spots nearby]
Tensodo Cave, Dogashima Yakushido, the Dogashima tombolo (on Sehama Beach), Dogashima Cave Tour, Komatsu Tourist Center, Tokitei restaurant, Dogashima Onsen, Sanshiro Island
[Popular local sight-seeing spots]
Dogashima, Tensodo, Koganezaki, Sanshiro Island, Ukashima