MENU

Luxury
Ocean View

(With open-air hot spring)
Luxury Ocean View
(With open-air hot spring)
Rooms are oceanfront and overlook Suruga Bay. Enjoy the blue sky and sea of Izu and extraordinary moments by relaxing in a hammock on the terrace or soaking in the open-air bath with free-flowing hot spring water.
In the open-air baths in the guest rooms, we provide special bathing clothes for a more liberating experience.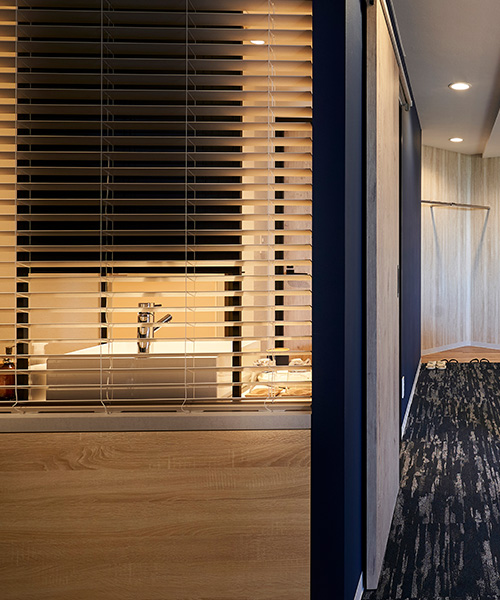 Luxury Ocean View (With open-air hot spring)
Room size: 60m² + terrace 16.7m²
Max guests: 4 adults
Number of Beds: 3 (max. 4 / 1 sofa bed)
Bed size: 120cm x 195cm
Sofa bed: 170cm x 195cm
Amenities: more details
Others: non-smoking, Hammock x 2 (terrace)
more
close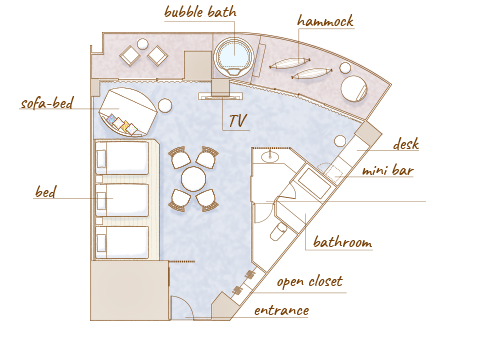 plan
large common bath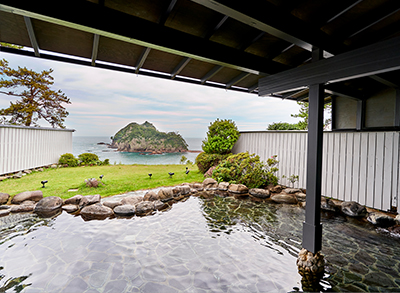 A large bath with an open-air bath and a garden with a view of the cliff in front of you. Please stretch out your arms and legs and relax while feeling the four seasons.
(2F) *Switching between men and women
- "Dangai no Yu"
[Women] 3:00PM - 12:00AM / [Men] 5:00AM - 10:30AM
"i-sora no Yu"
[Women] 5:00AM - 10:30AM / [Men] 3:00PM - 12:00AM
Restaurant / Lounge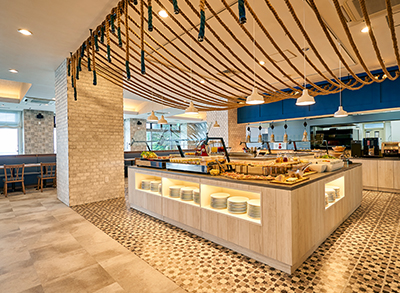 Enjoy the bounty of the sea and mountains of Nishi Izu in Italian cuisine for dinner, and Japanese and Western buffet with local flavors for breakfast.
Guests can relax in the lounge with Italian-style beverages.
- restaurant Taverna di Mare (1F)
[Breakfast] 7:30AM - 9:30AM (Last seating 9:00AM)
[Dinner] 6:00PM - 7:00PM
*Please note that business hours may change depending on reservations.
*Two sessions will be held depending on congestion.
- lounge Tramonto (1F) Free for hotel guests
7:30AM - 10:00PM (Food offerings 3:00PM - 6:00PM)
Nightwear / Bathing clothes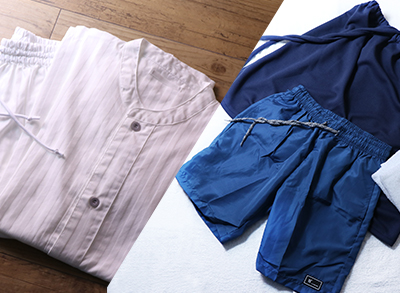 Comfortable nightwear and bathing clothes are available for use in the open-air baths in the guest rooms.
In order to enhance guests' sense of carefreeness and to ensure great views from their rooms for all our guests while bathing, we have minimized blindfolds, etc. However, we ask our guests to wear a bathing clothes when bathing.
Hammock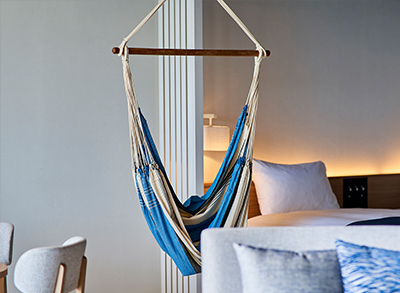 Two hammocks are set up on the terrace.
Please enjoy the view of the blue ocean and feel the breeze while relaxing.
*Image shows Executive Ocean View Suite
Check-in 3:00PM / Check-out 11:00AM